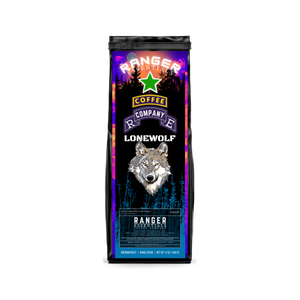 Ranger Essentials Lonewolf Single Origin Fair Trade Organic Medium Roast Ethiopian Coffee (12 oz. bag)
Ranger Essentials Lonewolf Coffee is a Single Origin Fair Trade Organic Medium roast coffee (12 oz. bag).

Roast: Medium
Origin: Ethiopia
Process: Natural
Notes: Cantaloupe, raisin, pure cane sugar, juicy mouthfeel, tart malic acid
Note: Comes in whole bean only.
BACKSTORY: "Lonewolf"
A Lonewolf is a wolf that does not belong to a pack and prefers to live, act, or work independently of others. Electing solitude over togetherness.  There are many references to a Lonewolf in the military and creative world. Active duty SOF & intelligence personnel act in this capacity sometimes for missions. Military veterans often find themselves as lone wolves running without their pack post-military careers. Life balance is everything for the Lonewolf.  In our case...it's just a dang swell-tasting fair trade & organic medium roast coffee!
Lonewolf, the field name of the fictional character

 

John Rambo