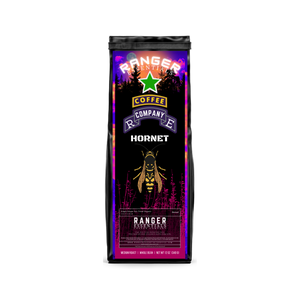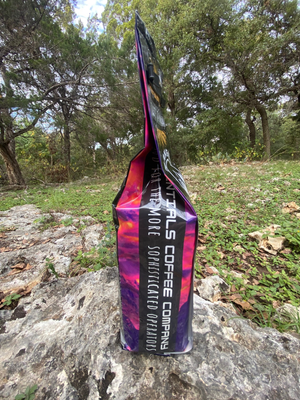 Ranger Essentials Hornet Single Origin Medium Roast Brazilian Coffee (12 oz. bag)
Ranger Essentials Hornet is a Single Origin Medium Roast Brazilian Coffee (12 oz. bag).
Roast: Medium
Origin: Brazil
Process: Washed
Notes: Apple, semi-sweet cocoa, peanut, caramel, orange acidity
"Coffee was not native to the Americas and had to be planted in the country. The first coffee was grown by Native Americans. The first coffee bush in Brazil was planted by Francisco de Melo Palheta in Pará in 1727."
Note: Comes in whole bean only.
Our devotion to small-batch coffee and our steadfast pledge to provide the freshest roasts are reflected in our unique approach. We prioritize the swift transfer of freshly roasted beans directly into the bags, resulting in roasting on demand.  This exceptional process might entail a slightly longer preparation time in contrast to other companies that supply their roasts to big-box retailers, where their coffee can linger on the shelf for anywhere from 90 to 180 days.
BACKSTORY:
"USS Hornet (CV-8), the seventh U.S. Navy vessel of that name, was a Yorktown-class aircraft carrier of the United States Navy. During World War II in the Pacific Theater, she launched the Doolittle Raid on Tokyo and participated in the Battle of Midway and the Buin-Faisi-Tonolai raid. In the Solomon Islands campaign, she was involved in the capture and defense of Guadalcanal and the Battle of the Santa Cruz Islands, where she was irreparably damaged by an enemy torpedo and dive bombers. Faced with an approaching Japanese surface force, Hornet was abandoned and later torpedoed and sunk by approaching Japanese destroyers. Hornet was in service for one year and six days and was the last US fleet carrier ever sunk by enemy fire. For these actions, she was awarded four service stars and a citation for the Doolittle Raid in 1942, and her Torpedo Squadron 8 received a Presidential Unit Citation for extraordinary heroism for its performance at the Battle of Midway. Her wreck was located in late January 2019 near the Solomon Islands."
"Before the attack on Pearl Harbor, Hornet trained out of Norfolk. A hint of a future mission occurred on 2 February 1942 when Hornet departed Norfolk with two Army Air Forces B-25 Mitchell medium bombers on deck. Once at sea, the planes were launched to the surprise and amazement of Hornet's crew. Her men were unaware of the meaning of this experiment. Hornet returned to Norfolk, prepared to leave for combat, and sailed for the West Coast on 4 March via the Panama Canal."
Other uses of the nomenclature "Hornet" Boeing F/A-18E and F/A-18F Super Hornet are twin-engine, carrier-capable, multirole fighter aircraft variants based on the McDonnell Douglas F/A-18 Hornet. The F/A-18E single-seat and F/A-18F tandem-seat variants are larger and more advanced derivatives of the F/A-18C and D Hornet."
References:
https://en.wikipedia.org/wiki/USS_Hornet_(CV-8)
https://en.wikipedia.org/wiki/Coffee_production_in_Brazil