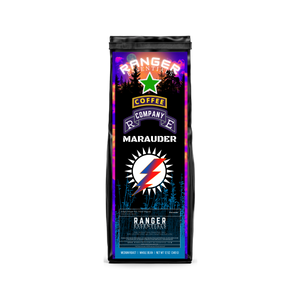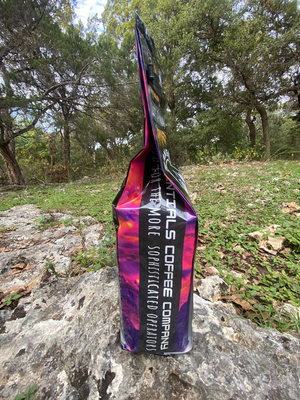 Ranger Essentials Marauder Single Origin Fair Trade Organic Medium Roast Honduran Coffee (12 oz. bag)
Ranger Essentials Marauder is a Single Origin Fair Trade Organic Medium Roast coffee  (12 oz. bag)
Roast: Medium
Origin: Honduras
Process: Washed
Notes: Lemon-lime, brown sugar, melon, medium body, and bright acidity
Note: Comes in whole bean only.
OTHER USES: "Merrill's Marauders"
Marauder: a person who marauds; a raider.
"Merrill's Marauders" (named after Frank Merrill) or Unit Galahad, officially named the 5307th Composite Unit (Provisional), was a United States Army long-range penetration special operations jungle warfare unit, which fought in the Southeast Asian theater of World War II, or China-Burma-India Theater (CBI). The unit became famous for its deep-penetration missions behind Japanese lines, often engaging Japanese forces superior in number."
"Stilwell appointed Brigadier General Frank Merrill to command them. Several American war correspondents had come to Deogarh to hear about the unit and its training; the reporters sat around trying to think of an appealing nickname for the 5307th that would capture the interest of the American public. Time correspondent James R. Shepley came up with "Merrill's Marauders" and that name stuck."
"In early 1944, the Marauders were organized as a light infantry assault unit, with mule transport for their 60 mm mortars, bazookas, ammunition, communications gear, and supplies. Although the 5307th's three battalions were equivalent to a regimental-size unit, its lack of organic heavy weapons support meant the force had a combat power less than that of a single regular American infantry battalion, a fact that General Stilwell and his NCAC staff did not always appreciate. Without heavy weapons support, the unit would have to rely on flexibility and surprise to outfight considerably larger Japanese forces."

"A little-known secret to the Marauders' success was the inclusion of fourteen Japanese-American Military Intelligence Service translators assigned to the unit, including future Army Rangers and Military Intelligence Hall of Fame inductee Roy Matsumoto."

"Weight was critical to the Marauders, and the need for a compact, lightweight field ration was essential; unfortunately, the best solution, the dry Jungle ration, at 4,000 calories per day, had been discontinued for cost reasons in 1943. On the advice of Army supply officers in Washington, General Stilwell and his G-4 staff determined that a one-per-day issuance of the U.S. Army's 2,830 calorie K ration (one K ration = three meals) would be sufficient to maintain the Marauders in the field. While compact, the K ration not only had fewer calories but less bulk, and included some components so unappetizing as to be thrown away by many users."

"On the advice of British General Orde Wingate, the force was divided into two self-contained combat teams per battalion. In February 1944, in an offensive designed to disrupt Japanese offensive operations, three battalions in six combat teams (coded Red, White, Blue, Khaki, Green, and Orange) marched into Burma. On 24 February, the force began a 1,000-mile march over the Patkai range and into the Burmese jungle behind Japanese lines. A total of 2,750 Marauders entered Burma; the remaining 247 men remained in India as headquarters and support personnel."

"While in Burma, the Marauders were usually outnumbered by Japanese troops from the 18th Division, but always inflicted many more casualties than they suffered. Led by Kachin scouts, and using mobility and surprise, the Marauders harassed supply and communication lines, shot up patrols, and assaulted Japanese rear areas, in one case cutting off the Japanese rearguard at Maingkwan. Near Walawbum, a town believed by General Stilwell's NCAC staff to be lightly held, the 3rd Battalion killed some 400–500 enemy soldiers. The Japanese were continually surprised by the heavy, accurate volume of fire they received when attacking Marauder positions. Its combat-experienced officers had carefully integrated light mortar and machine gun fires, and virtually every man was armed with a self-loading or automatic weapon in which he had trained to a high level of marksmanship. In March they severed Japanese supply lines in the Hukawng Valley."

"Informed by the British that the situation in Imphal was under control, Stilwell wanted to launch a final assault to capture the Japanese airfield at Myitkyina. Always guarded against the potential for interference by the British, General Stilwell did not coordinate his plans with Admiral Mountbatten, instead transmitting separate orders to his Chinese forces and the Marauders. The men took a brief rest at Shikau Gau, a jungle village clearing where they bartered with the native inhabitants for fresh eggs and chickens with an issue of 10-in-one and C rations. The Marauders also took the opportunity to sunbathe in an attempt to control the onset of various fungal skin diseases. Now down to a little over 2,200 officers and men, the 5307th began a series of battles on the march to Myitkyina."

Marauders rest during a break along a jungle trail near Nhpum Ga. In April, the Marauders were ordered by General Stilwell to take up a blocking position at Nhpum Ga and hold it against Japanese attacks, a conventional defensive action for which the unit had not been equipped. At times surrounded, the Marauders coordinated their own battalions in mutual support to break the siege after a series of fierce assaults by Japanese forces. At Nhpum Ga, the Marauders killed 400 Japanese soldiers, while suffering 57 killed in action, 302 wounded, and 379 incapacitated due to illness and exhaustion.
References:
https://en.wikipedia.org/wiki/Merrill%27s_Marauders